Most of my commentary on the Kansas City Star relates to how hard Jeffrey Flanagan blows (see here and here). In fact, despising Jeffrey Flanagan runs in the family. See my brother's posts here.
Today, I'd like to focus on the Star's website.
The Chiefs hired Chan Gailey for their offensive coordinator job Wednesday.
It's Thursday night, close to midnight. Look what's on the front page of the Kansas City Star's online sports section.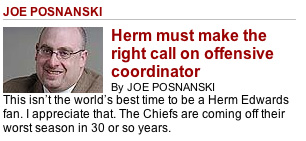 They hired a guy more than 24 hours ago! Why do you have this speculative piece still up? What a turd.
Note: I love Pos. It's not his fault his company has a terrible website.