Check out the Macon Music's "Eliot Spitzer Night."
1. The Music have extended an invitation for former New York Governor Spitzer to be on hand and throw out the first pitch

2. The team will give away a New York Vacation including a one night stay at the MayFlower Hotel

3. Client #9 (or fan #9) will receive a free Music prize pack

4. Any fan with the name Eliot, Spitzer, or "Kristen" along with any fan from New York will receive $1 off admission

5. The Music will play Frank Sinatra music throughout the evening in honor of New York

6. Wire Taps will be placed throughout the ballpark this evening

7. ATMs will be available for cash withdrawals not to exceed $5,000 per hour

8. Any fan who has resigned their position will be given $1 off admission

9. The 871st fan will receive a gift certificate for the Macon Music Team store.
Pretty good stuff.  I have one suggestion: Free admission for any humiliated wife who comes to the game.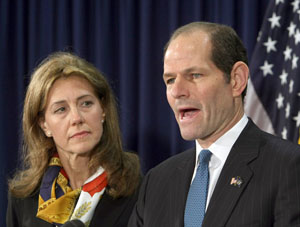 Mrs. Spitzer won't be going down tonight