Jenna Jameson lost her mind.
"Being taken seriously as a woman has been the hardest challenge to overcome in show business," Jenna said. "It took me a long time to make my company successful, and even now it isn't exactly easy."
This challenge wouldn't be so hard if she hadn't been "seriously" plowed on tape and displayed to the world repeatedly.  Looking good at sex and throwing out gratuitous moans does not an actress make.  I also love this "as a woman" line she drops.  Last I checked, Ron Jeremy wasn't competing for gigs with Philip Seymour Hoffman.  This woman is not Hillary Clinton.
Her first non-porn flick "Zombie Strippers" received a limited release in April and, well, didn't exactly bust any box-office records. Jameson also didn't make the Maxim "Hot 100″ list, even though she attended the party. But such setbacks certainly haven't hindered her confidence in the cutthroat terrain of Tinseltown.
"I rank myself as the hottest," she said. "If I didn't, I would be lying."
Now, we know she's gone mad.  She didn't make the Hot 100 for a reason, and it's for morphing into the creature you see below.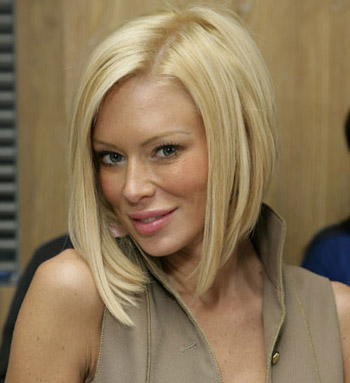 Jenna, amazingly, without her Zombie Stripper makeup
When you base your career on taking dick in front of a camera, you will stop getting work when you get old – even if you hide it under massive amounts of plastic surgery.  It's a fairly simple concept.