UPDATE!!! Almost forgot to put a call from the High Lady that we got after the show. She's also the quote of the day at the bottom of this post.
Which are the real Blanche and Dorothy? You decide.
And a stoner called in to celebrate 4/20.
But the biggest item of the day is a series of emails I've received. This is one of the many perks of being in radio.
Stooks, i have been listening to the show a long time ago, and let me tell you that you and Chris are totally awesome cool people, i think that you both should feel pretty darn happy about having the job that you have, i just wanted to tell you that i love the show and that you guys make it totally fun, well that's all i have to say, if you want to email me back you can.
PS: i love when you make fun of Britney Spears, keep doing it!!!!!!!!!!!!!
I emailed her back, saying "thanks for listening, blah, blah, blah."
Then, I get…
I just wanted to say thanks for emailing me back you are awesome, when can i meet you??? I live in Junction City.
Okay, things were starting to get a little creepy. Then, I get the following email from a different girl:
Hey, Its, ana
Well , tell your girl ,. im sorry for not being able to keep speacking i got this bad situation going on in the hotel where i work1! Crazy old lady!! long story !! But its over , when i went back to talk to her , she was gone!! She a realy nice gal! Im happy for both of you and the baby to come!! Good luck with everything!! ~ Ana (lilimex03) univision.com
I figured they had the wrong email address or something. Boy was I wrong. I got this email from the first girl.
MAT, I AM REALLY SORRY!!!!!!!!!! I AM A STUPID PERSON, PLEASE I HAVE SOMETHING VERY IMPORTANT TO TELL YOU, FRIDAY, I WAS TALKING TO THIS GIRL THAT THOUGHT THAT SHE WAS COOL ENOUGH TO MAKE ME FEEL BAD, SHE TOLD ME THAT SHE HAD AN 8 MONTH BABY AND THAT HER BOYFRIEND AND HER WERE ABOUT TO GET MARRIED IN APRIL 28, SO MS. I AM SO STUPID (ME) I GOT SO JEALOUS THAT I TOLD HER THAT YOU WERE MY BOYFRIEND, AND THE WORST THAT WE WERE ABOUT TO HAVE A BABY, PLEASE FORGIVE ME, I WAS JUST SO JEALOUS BECAUSE SHE HAS ALL THE THINGS THAT I WANT TO HAVE, IF YOU HAVE RECEIVED ANY EMALI FROM ANY FEMALE, PLEASE DO NOT REPLY HER, I HOPE THAT YOU CAN UNDERSTAND ME, THE QUESTION NOW IS: "WILL YOU EVER FORGIVE ME???" PLEASE REPLY AND IF YOU HATE ME YOU HAVE THE RIGHT TO HATE ME, YOU ARE A GREAT PERSON, I AM REALLY SORRY
PS: WILL YOU EVER FORGIVE ME???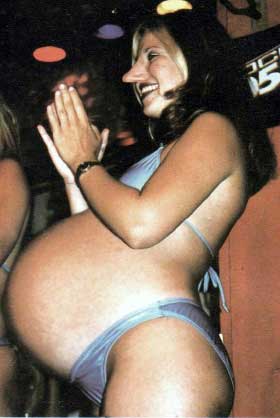 Trixie was the first woman to ever use her own nose for artificial insemination.
Today's Daily Quote of the Day for Today: "Well, I'd sleep with her bones. And I wouldn't tell a soul." – The High Lady, after Stooks told her she couldn't sleep with the President's Grandmother because of her inability to be alive.