Dear senior citizens,
Enough with Wii Bowling already.
While I'm glad you've embraced video games, I think it's time to nut up and try something new.  Every time there's a picture of you playing Wii, you're playing Wii Bowling.  I bet you call the Wii "the bowling game."  "Hey, who wants to come over and play the bowling game at my assisted living hub?"
Do you realize how many people would love to own the Wii but can't find one?  You and your sick bowling fetish are preventing an entire generation of kids from enjoying games that took more than three seconds to create.  The least you can do is experiment with some other games.
Yes, that slot on the front of your system is made to take games other than Wii Bowling.
You've already forced your tired, unmalleable brain to learn how to put a controller on and interact with a TV screen.  Why not go one step further and try a different game?  In fact, there are four other games on the same disc as Wii Bowling.  I want to see old people playing Wii Tennis! Boxing would be classic, but that's getting greedy.
Have you even heard of Super Mario Galaxy?  Yeah, it's only like the best game ever created.  It's mind-blowing at times.  Yet, there you are, like a zombie, rolling a virtual ball down the lane, getting your old person juice all over the Wii Remote.
You don't have to give up Wii Bowling completely.  I understand the appeal.  Bowling is cool and a good way to socialize.  You can't go to the bowling alley.  The diaper changing tables weren't built for adults.  Your wrists and hips would likely snap under the weight of even the lightest ball.  The Wii is a good alternative. But Mario's getting pissed.
Thanks,
Matthew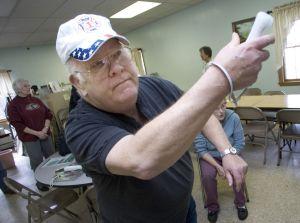 Old person playing bowling, what else?