Britney Spears has a messed up white Mercedes to go with the black one she used in a hit and run. She's having such a difficult time driving. Her brake keeps sticking to her vagina. Such a shame.
I only bring this up to remind you of the times when we went out of our way to pretend Britney had some talent. We didn't appreciate her like we should have.
It was much like the times when we used to thoroughly enjoy Michael Jackson and David Hasselhoff as non-unintentional-comedic entities, never anticipating the complete disasters of individuals they would inevitably become.
Do you even remember 1999-era Britney?
I'll take this opportunity to be the first person in three years to post an attractive picture of Britney.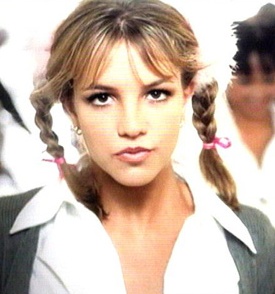 Eight years later, this outfit barely covers her roast beef.